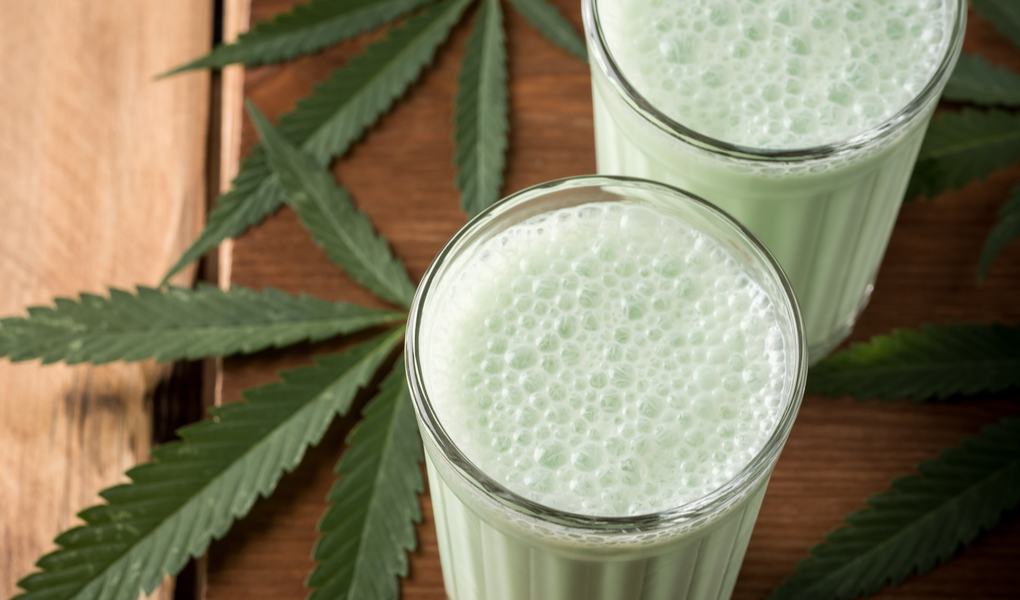 Bhang, a cream manufactured from leaves and buds of cannabis sativa, is usually added to drinks and foods.
Technically, bhang is the paste name made from flowers and leaves of female cannabis sativa. However, the phrase is also used to refer to beverages produced from refining the paste. Bhang is processed by soaking the cannabis sativa leaves in a container half-filled with water. After some time, the soaked marijuana is then ground to form a paste. By traditional means, the paste is rolled in tiny balls known as bhang goli. The balls are shiny, smooth, and dark brown to green in color. The common uses of bhang include making drinks such as bhang thandai. Milk, nuts, and other spices are also added to the paste drink to create a perfect thandai.
How Is Bhang Created?
The making of bhang begins when the buds and leaves of the cannabis plant are dried, ground, and then soaked in water to form a paste. The paste is used as an additive in foodstuffs and drinks. In India, consumption of bhang is at its highest level compared to other countries. Although most countries consider bhang as an illegal, illicit drug, the consumption rate of bhang is constant and never drops. In holy cities, bhang is mixed with foodstuffs and drinks and then sold to street vendors and even in shops approved by the state's government. However, India's National Policy on Narcotics and Psychotropic Substances forbid the addition of other components of bhang other than leaves to drinks and foodstuffs.
People consume bhang by blending it in whey and curd – milk's liquid and solid particles that separate after milk have undergone coagulation. The resulting mixture is then used to make a bhang beverage known as Bhang Lassi. Another option is consuming a bhang goli made from fresh ground cannabis and mixed with water. Additionally, bhang can be combined with sugar paste and ghee – India's commonly used butter – and used for making sweets. In summary, bhang is made when the cannabis sativa is ground and soaked in water to form paste used as an additive in drinks and foodstuffs.
How To Make Bhang at Home
Making bhang at home is not hard a task as you think. You will need the following ingredients:
600 ml of water

4 grams of cannabis leaves or flowers (fresh)

One liter of milk (warm)

One-teaspoon full coco milk

Half a cup sugar

Half-teaspoonful of ground ginger

¼ tbsp garam masala and

1 tbsp grenadine
Procedure
Put the water in a pot and boil

Add fresh cannabis

Reduce the heat intensity and cook it for 10 minutes

Eliminate heat and add milk, then stir to mix properly

Keep adding milk, then add almonds as you stir.

Sieve the mixture to remove cannabis remains, then transfer in a clean bowl.

Add remaining milk, grenadine, and coco milk.

Mix as you add ginger, garam masala, and sugar.

Let it cool down before serving it.
Note: -If you want your bhang to garnish, top it with rose petals or mint leaves before serving.
Other Easy Bhang Recipes That You Could Make At Home
There are many bhang recipes with awesome flavors and stimulation that you would like to try. You should know some of the simple recipes of bhang that you could make at home. Make bhang recipes if you have a party at your home or any other function you would love to enjoy. The common bhang recipes include:
Bhang Thandai
This type of bhang is common in India. It is a powder made from flowers and leaves of the bhang plant.
Ingredients
One liter milk

2 cups of water

Half a cup sugar

Two pinches of saffron strands

1 tbsp of almond

10 tbsp of bhang powder

Ten units of peppercorns

½ tsp cardamom powder

1 tbsp of dried watermelon seeds

Half tbsp. of poppy seeds

Half a cup of rose petals

½ tbsp of aniseed
Note: you can get cardamon powder in shops, but you can make yours at home too.
Steps for making bhang thandai
Making bhang thandai at home involves simple processes, and it gets ready after a few minutes. Follow the following steps:
Pre- preparation
Boiling The Milk
Place your saucepan over a lit stove.

Add your one-liter milk.

Boil the milk well for a few minutes.

Turn the flame off and let the milk cool to normal room temperature.

Keep it aside for some time
Soaking The Ingredients
Take a fairly large-sized bowl and add two cups of water.

Take the almond, aniseeds, and watermelon seed and add them to the water to soak.

Add the bhang seed powder into the bowl, followed by the chopped rose flower petals.

Let the ingredients soak for about an hour together.
Making A Smooth Paste
After an hour, take the soaked ingredients and strain them properly.

Add them in a mixer grind jar, then during them until you form a smooth paste.
Making Bhang Thandai
Take a large clean bowl and line it with a muslin cloth.

Transfer your pasta into the bowl, add water, then strain it.

Collect your strained liquid in the bowl, then add your sugar to it.

Add ten units of peppercorn, ½ tsp cardamom powder, and a few saffron strands, then mix well.

Take your milk, blend it with this mixture, and then stir it thoroughly.

Make it hilled by adding a few ice cubes; then serve your bhang thandai immediately.
Bhang lassi
Bhang lassi is a recipe made from milk, nuts, and spices such as cinnamon, rose water, cannabis, cardamom mixed with water then ground.
Bhang lassi recipe
Ingredients
15ml cannabis
2 cups of warm milk
Half a cup sugar
1 tbsp of coconut milk
1/8 tsp of powdered ginger
1 pinch of garam masala
½ tsp of grenadine and I cup of water
Procedure
Boil your water in a teapot, then add ½ oz of cannabis to it.

Brew the mixture for about 10 minutes and then strain.

Grind your strained mixture using mortar and pestle as you add your milk several times.

Stain the mixture in another clean bowl, then set it aside.

Add more milk and almonds to your strained mixture the grind it gains several times.

Remove excess cannabis by straining your mixture through a sieve, then add coconut milk, whole milk grenadine, and water to a hot cooking pan.

Boil the mixture as you add ginger, garam masala, and sugar as you stir thoroughly.

Put your flame off after boiling your mixture for some time to attain a reasonable temperature. Cool it in a fridge to get your bhang lassi ready for serving.
Bhang Pakore
This is a special bhang recipe eaten by people when having a Holi festival. Here is a recipe.
Ingredients
250 grams Besan floor

200 grams of potatoes

200 grams of cauliflower

140 grams of onion

100 grams spinach

200 grams of baigan

10 grams of bhang powder

1 gram of soda bicarbonate

5 grams of carom seeds

5 grams of Pomegranate powder

Oil and salt for deep frying and taste, respectively.
Procedure
Wash the vegetables and cut them into big chunks.

Mix them with began salt and soda bicarbonate.

Add your bhang to the mixture and include red chili and pomegranate seed powder.

Add water to your mixture to make abater with a dropping consistency.

Add your vegetable mixture and make sure they are completely covered in the mixture.

Heat your oil in a pan, then add the battered vegetables one by one for deep frying.

Your bhang pakora is ready, and you can serve it while hot.
Bhang Masala Chai
Bhang masala chai resembles traditional Indian tea. The only difference is that the tea leaves are replaced with bhang.
Recipe
Ingredients
¼ cup of dried bhang leaves – process it in a food processor to make a fine powder.

300ml of water

Six whole cloves

¼ cup sugar

1 tsp of ghee

1 liter of milk

1 tsp of ground ginger

1-inch cinnamon stick

Cracked cardamom pods – 6.

Six whole black peppercorns
Procedure
Add all the ingredients to a single pot and then bring them to a heater to boil.
Reduce the heat intensity and seam your mixture for about an hour.
Pit off the flam and let your mixture cool down.
Strain the mixture into a clean jar, then cover with a tight lid. Your bhang masala chai is now ready for serving.
Substitute sugar with honey and add vanilla beans for a tastier flavor. Learn more about bhang and how to make it here.
The Bottom Line
Bhang is a cream made from the leaves and buds of cannabis sativa plants. It is commonly added to drinks and foodstuffs. Therefore, it is crucial to be familiar with the state laws before attempting to use bhang and its products. There are many bhang recipes known to the world. Each of them is easy, and you can prepare one to enjoy your festival in the comfort of your kitchen. Additionally, most ingredients used to make bhang recipes are fairly cheap; hence you do not need to worry about missing any one of them.
Jan 27, 2022

Category:

News
Comments: 0